THIS WEEK:
This week is loaded with activities once again!
1) This evening I will release a teaching video via IG, this FB group, and email for your students to watch. There will be no in person gathering tonight.
2) Friday- Coffee and Donuts hangout 4:30-5:15pm for Middle School students. Sign up here: https://m.signupgenius.com/…
3) I will be needing some major help with moving the skate ramp at some point this weekend. Need some strength to get it lifted on to a trailer. Time is TBA
4) Sunday night we will be hanging at CB from 5-7pm. More details to come later this week!
YOUTH MINISTRY
Harbor Youth Ministry works toward being the most welcoming youth group in Wilmington! Our goal is for everyone that comes to youth to feel God's love, through us, through hospitality and kindness. All youth, in grades 6 – 12, are invited to participate. We have a great leadership team that works to plan events and fundraisers. Our youth and adult leaders lead small groups for middle school students and for high school students. Our leaders are those who set the example of attending worship and showing hospitality and acceptance.
Through the school year the youth meet on Wednesday nights, from 6:30 – 7:30, right after the Fellowship Meal. United Methodist Youth Fellowship, UMYF, is on Sunday evenings from 5:45 – 7:00. We have a different schedule for the summer. We have a youth praise band, an outdoor ministry with a disc golf course and a Ga-Ga pit, and we serve with Family Promise, the food ministry, and in other ways.
During the COVID-19 social distancing time we are meeting on Zoom, Wednesdays at 4:00pm and for Sunday school, Sundays at 10:00. The Zoom meeting details go out via email. If you would like to join us online please call the church office to get on the Youth Distribution List. Right now we do not have any events planned, but when we can we will start meeting in person again.
Emily A. Mills
Associate Pastor of Youth and Family Ministries
Our Pilgrimage to Fayetteville to worship with 5000 other United Methodists is our favorite retreat.
We may act crazy sometimes, but we have a great time together!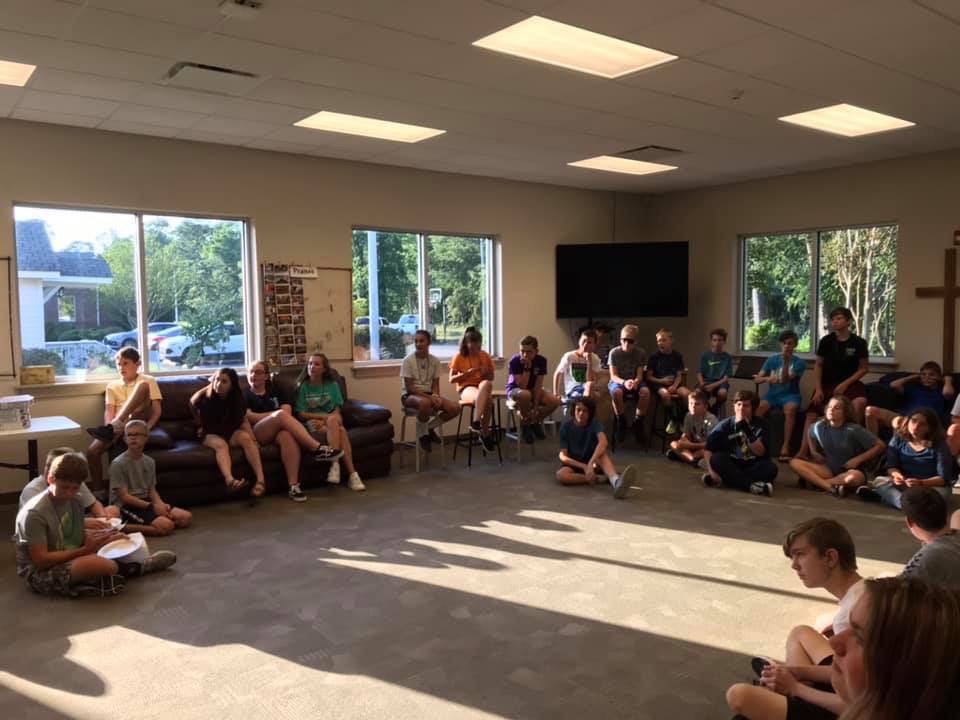 All Middle School and High School youth are welcome!